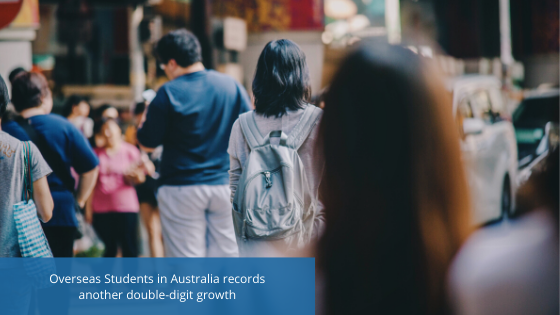 Australia is set for another record reaching double-digits with 720,150 students enrolled across various sectors as of September 2019.

Overseas student numbers in Australia set its record by 11.4% in 2018 and 12.6% in 2017.

The overseas student population was comprised of the growth from the higher education and vocational (VET) sectors, contributing 12% and 17% year-over-year increases, respectively. ELICOS increased with 3% growth while there was a small decrease recorded for schools and non-award programs having -4%.
Here are the top countries where overseas students are sourced out:
China (28% of the total)

India (15% of the total)

Nepal (7% of the total)

Brazil (4% of the total)

Vietnam (3.5% of the total)
While student visa holders in Australia are focused mainly on study options, they also are entitled to work rights. They are entitled to work up to 40 hours per fortnight or 20 hours per week while their course is on-going while they can also work full-time during term breaks or holidays.

Education agents are one of the major players of this growth in which they source out overseas students to study in Australia. With over 20 partner education institutions offering over 100 different courses in Australia, Canada, and New Zealand, MEI can help you choose a course and a college that suits your career and life ambitions. Our qualified counselors will provide you with expert guidance, based on your goals and circumstances. We listen to you and provide personal advice that will help you navigate your way to success.

https://www.visas.org.au/wp-content/uploads/2020/02/Living-in-NZ-23.png
315
560
Caitlin Belda
https://visas.org.au/wp-content/uploads/2017/11/MEI_Logo_Color_small-300x186.png
Caitlin Belda
2020-02-26 08:22:08
2021-05-13 00:36:21
Overseas Students in Australia records another double-digit growth