MINT Program: Business and Skilled Migration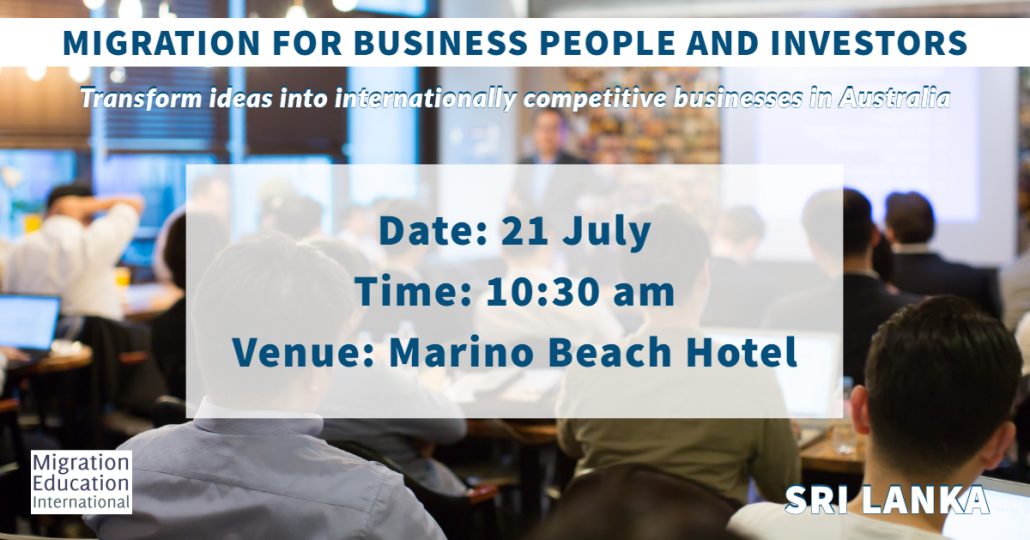 Are you…
Planning to start a business?
A skilled worker looking to migrate?
Seeking to own and manage your own business?
Learn how to transform your ideas into a skilled job or by starting or owning a business in Australia.
The MINT Program provides long term migration opportunities for business persons, investors, and entrepreneurs. Transform your ideas into internationally competitive businesses through mentorship, funding, resources, knowledge, and access to business networks.
MINT representatives together with Mr. Richard Foo (Migration NT Manager) and Mr. Sean Mahoney (MEI CEO) will be coming to Sri Lanka to hold an Information Sessions on 21 July:
Sri Lanka
Date: 21 July 2019 (Sunday)
Time: 10:30 am
Venue: Marino Beach Hotel, 590 Galle Rd, Colombo 00300, Sri Lanka
Contact us here:
Tel: +63 2 516 9008
Mob: +63 917 307 8083
Email: info@visas.org.au
MEI Migration Agents Registration Number: 1279210
More information about the MINT Program for 2018/19: https://darwininnovationhub.com.au/mint/