Migrating to Australia from South Korea
While there is an honest and unique challenge for South Korean students in Australia when it comes to language, there are still a lot of South Koreans enrolling in Australian educational institutions. That number hovers around 29,000 and it's been growing steadily since 2015. Most have been trying to flee the high pressure, high tension situation of education back at home towards a more accepting and laidback Australian education system. Fortunately, that system has been very accommodating to these South Korean students.
First Things First
Like everyone else, you need to first secure a student visa with the Australian Government's Department of Home Affairs. For this you need to be both above six years of age, possess an accredited health insurance, and also be accepted into an Australian school or university. This will cost you around KRW 462,000 but it does last for five years and is extendable or convertible to a work permit down the line.
Bridging the Distance
Seoul is about 8,000 km from Sydney, with time an hour behind, and the journey can take up to 10 hours via Korean Air. The adventurous can take a detour to Beijing but that will stretch the travel time to almost double. So it really boils down to your preference overall.
Costs of Living
Surprisingly, there are some things that are more affordable in South Korea and others that are more affordable in Australia. Rent and restaurant meals are—on average—costlier by up to 50-60% in Australia versus South Korea. Balancing this out are consumer and grocery prices that are close to 25% lower in Australia. For example, milk, chicken, beef, apples and other fruits, and even beer are about half the price of what you'd expect in South Korea.
Earning a Living
South Koreans certainly have great economic incentive for pursuing studies and eventually employment in Australia as the minimum wage in the Land Down Under comes up to twice what they get in South Korea. This is best reflective in the comparative annual salaries of healthcare workers from both countries—a popular field of work in South Korea. On average, a fairly established healthcare professional in South Korea earns KRW 3,000,000. In Australia, that shoots up to about KRW 82,000,000.
Korean Communities
Over 98,000 South Koreans currently take residence in Australia—a majority coming in in the last decade or so. Of these, over 63% can be found in New South Wales—with Victoria a close second. These work in everything from professional to managerial fields with many owning their own businesses. This concentration has led to the foundation of many Christian Churches of the Korean persuasion (and some Buddhist temples) as well as support groups in the region. This means that you are less likely to feel far away from home as you study in Australia.
Holidays to Enjoy
Because of the vast disparity in terms of culture, Australia and South Korea only share New Year's Day and Christmas as a common holiday. However, because of the thriving Korean communities across Australia's many cities, you can expect a lot of celebration—and closed Korean-owned restaurants and businesses—on Seollal, Chuseok, Memorial, and Liberation Day. It's not common for Australians to join in on the mix of small to larger festivities, but you can readily find one if you want a touch of home.
In spite of the clear language barrier and the challenges that brings, there are many South Koreans who have studied in Australia and thrived. The balance of prices for commodities and necessities coupled with greater earning potential has drawn many to stay for longer. This, in turn, has created a thriving community that can help and support anyone dreaming of taking their studies here.
MEI has a number of schools and universities throughout Australia that we can help you apply to.
There are a range of study options including short-term English courses, 1 or 2 year Diplomas, 3 year Bachelor Degree and even Masters or PhD postgraduate qualifications.
During your initial consultation MEI will help you decide on the best course for you and your employment prospects, then guide you through the enrolment process.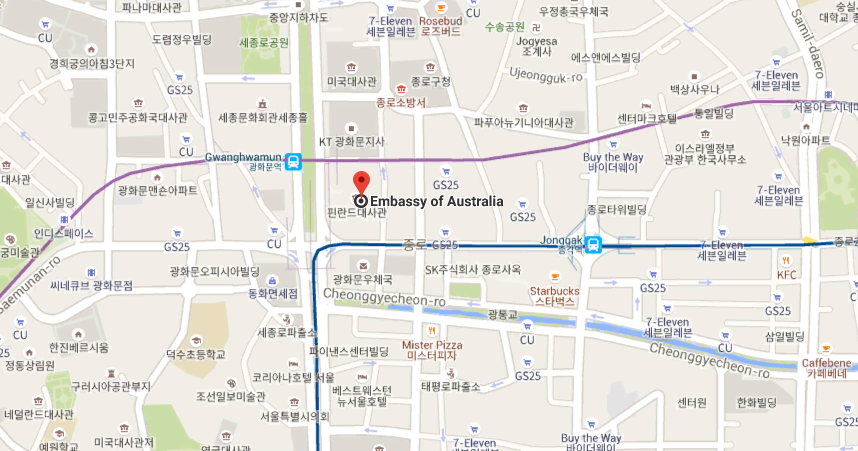 Australian Embassy South Korea
Australian Embassy
Republic of Korea
Democratic People's Republic of Korea
19th Fl, Kyobo Building, 1 Jongro, Jongno-Gu, Seoul 03154 Republic of Korea