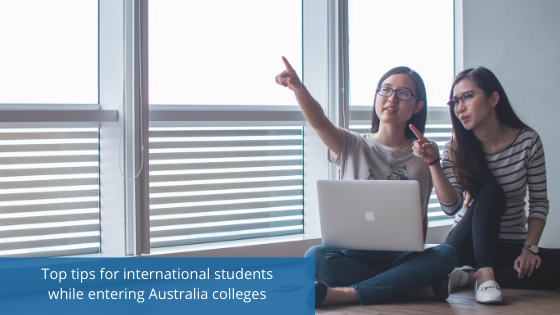 Known for its diverse communities and quality education, Australia has become a popular study destination for international students over the years.
With topnotch education providers having 37 of its institutions landed in the 2019 World's Best University Rankings, international students not only have the opportunity to study at some reputable universities but they also gain quality education and training that are valuable and recognized all around the world.
Here are some useful tips for international students as they embark their journey to Australia for the first time:
Embrace your new environment
Being immersed in a new environment can be a challenge but embracing it will make it easier for you to adapt to the lifestyle, culture and the warmth of its people. The onshore students you'll encounter are friendly and accepting of any race and ethnicity; since Australia is known for being multiculturally diverse.
Socialize
Aside from quality education, one of the best things about being an international student in Australia is that you have a chance to meet people from all around the globe inside the campus; sharing the same goals and passion that you have. Fear of being alone and the way of coping with anxiety matters during the course of your study greatly affects your holistic being. To overcome these anxieties, you need to get involved with social activities such as club teams, culture immersions, and community services.
Seek for support networks
Always make sure to know where to get the right information with regard to the institution's support services. You will need this in instances that you have questions regarding the course you are taking, the campus and other study-related questions you have in mind.
Always make a D-I-Y planner and manage your expenses
Being alone and independent in a foreign country will demand responsibility especially in your studies. To do this, you have to make a calendar of your to-do's and make sure that all sure assignments are done on time to avoid pile-up tasks that would lead you to procrastinate. You also need to manage all your expenses from your accommodations, tuition fees, etc.
Take some time to breathe
Spend your spare time during term breaks and downtime to travel and explore the beautiful country with plenty of things to do and see. Aside from its beautiful beaches and natural landscape, Australia also has a rich history with restaurants, museums and art galleries.
https://www.visas.org.au/wp-content/uploads/2020/02/Living-in-NZ-14.png
315
560
Caitlin Belda
https://visas.org.au/wp-content/uploads/2017/11/MEI_Logo_Color_small-300x186.png
Caitlin Belda
2020-02-03 03:17:18
2021-05-13 00:36:21
Top tips for international students while entering Australian colleges