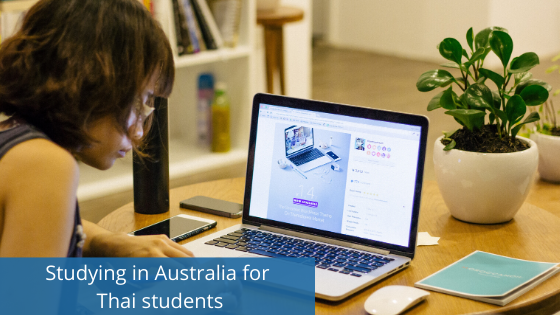 With the necessity of a good education to remain competitive in the global stage, many Thai students are gravitating towards an Australian education. This is mainly because a world-class education in Australia is relatively more affordable that in the United States and United Kingdom. Another reason is because of the diversity of culture that breeds a feeling of warmth and acceptance. Here are all you need to now if you're angling to get an education in Australia.
Requisites
Prior to anything else, you need to fulfill several requirements to acquire a student visa:
1. Complete your application in an Australian educational institute. One major requirement is that you're already accepted. Don't worry as this often doesn't entail any payments as yet.
2. Get a quality, comprehensive health insurance. This can vary in cost but is ultimately to your benefit anyway.
3. Fill out the application form and pay the requisite THB 13,600 necessary to process it.
Once that's done, you have all you need to get to Australia. The only thing left is to actually get there.
Getting to Oz
It is a manageable 5,600 km from Bangkok to Australia so travel time is a comfortable 9 hours and 45 minutes on average via Qantas, Emirates, Thai Airways, and Bangkok Airways. You can also opt to stop over at Singapore and Shanghai if you wanted to, this will increase the flying time to 12-13 hours. Naturally, the overall travel time can be longer if you take a longer stopover.
The Cost of Living
Naturally, a big concern among Thai students is the cost of living during their stay. The truth is that the cost of living in Australia is higher than it is back home in Thailand. It's between 50 to 100% higher when you're talking about basics like rent costs and groceries. It's significantly higher when you're talking about restaurant prices. A THB 60 meal in Thailand will cost a whopping THB 440 when in Australia. One of your best bets to saving money is to prepare your own meals.
The Rewards of Trying
One of the most popular career options in Thailand lies in Engineering, and the numbers say it all. Engineers of various disciplines will earn as much as THB 32,600 monthly back home in Thailand. In Australia, those same disciplines in engineering will expect to earn up to THB 147,000 monthly. This is just one job option, of course, other key career groups like IT and even management see a vast increase along the same lines.
A Greater Thai Family
There are over 45,000 Thais living in Australia today. Of this number, most are in New South Wales—though there are also significant number of Thais living in Victoria, Queensland, and Western Australia. Many of these migrated to Australia within the last decade. Apart from that, there are also over 250,000 Thai students enrolled in different school and universities across the nation. This makes for a robust support system evidenced by the many online groups offering meet ups and shared activities.
Important Celebrations
There are several holidays that Thailand has in common with Australia. These include the New Year, Labor Day, and to a certain extent, Chirstmas. More important holidays are those relating to Thai Royalty and their Buddhist heritage. These are mostly celebrated within Thai communities themselves with a deep sense of reverence. While only normally including local Thais, these celebrations are nonetheless made special and are open to other Thais coming over to study.
If you're a Thai looking to gain an advantage of world-class education without breaking the bank, Australia is a great option for you. The large presence of fellow Thais make the transition much easier. Bolstered by a higher income potential, it's easy to understand why many of your fellow Thai opt to make the move. It's easy enough to follow them too!
https://www.visas.org.au/wp-content/uploads/2019/05/Living-in-NZ-3.png
315
560
madmin
https://visas.org.au/wp-content/uploads/2017/11/MEI_Logo_Color_small-300x186.png
madmin
2019-05-21 01:00:22
2021-05-13 00:36:22
Studying in Australia for Thai Students